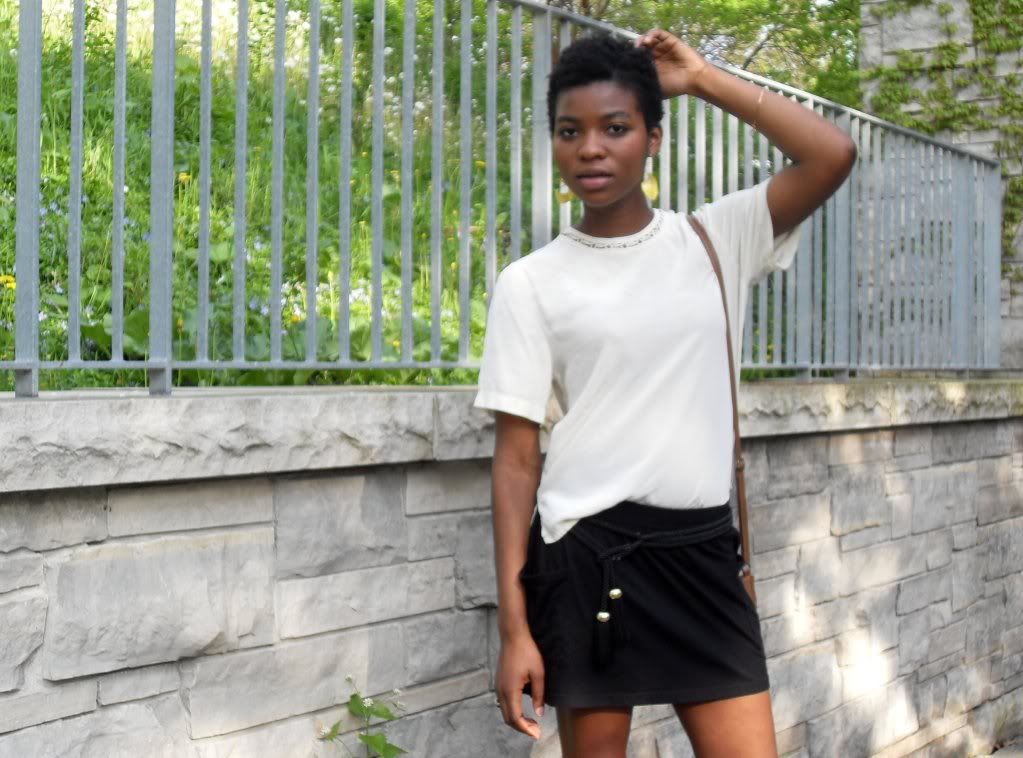 vintage blouse, aa skirt, river island belt, nine west shoes, h&m jacket
How to have an amazingly painful weekend. A pretty rough guide...
Turn down a trip to Miami (or any beach-sun filled destination) for reasons unknown to man.
Kick yourself for it. Kick the pain into gear...literally.

Don't wallow in self pity. Never wallow in self pity. This will be more painful for those around you than it will be for you. Never wallow. Just don't do it.
Now pick yourself up and go see a hilarious play like I don't know...the 25th Annual Putnam County Spelling Bee. I tell you, if that doesn't have you in painful fits of laughter, I know a little place where a sense of humour is dished out by the gallon. The sort of laughter in which you're left in stitches served with a sick feeling that your intestines are at risk of internal explosion. As Bukowski said, "if you're going to try go all the way and you'll ride life straight to perfect laughter". You should be dead set on living this out at said hilarious play.
The temptation to roll over on the floor and wave your feet in the air creeps in but you quickly realize how incredibly silly you already look. And quite frankly, you risk getting thrown out of the theatre by your belt buckles.You settle instead for the deafening applause approach. That one where you clap so hard you become quite suspect and people around you move down a seat or two. Congrats. You've successfully crossed that line between applause and having a severe case of clappisitis (let's hear it for singularity theory!). Your throbbing hands should be a good indicator that you're right on track here. Your abdominal region in shambles? Badabing! Time to move on to the next phase. If it's taking a while for your to achieve this, sit on it, laugh like hyenas do, and it'll come. Soon enough. I promise you. Abs of steel. It'll come.
Next up, the legs. Go on ahead. Round up some friends (or strangers) and play a "friendly" game of football. But was it not the mighty Shakespeare who said "what's in a name"? Football by any other name will still be football. The one where you feet touch the ball. The one where the preface "friendly" does not prevent the competitive dragon inside you from coming to the surface. Friendly has a tendency to go down the gutter when the blood gets boiling in a game of co-ed football; when losing becomes a non-option.
You run faster than your running shoes will allow, you run like you are being pursued by ten starving lions in a safari, you run like your life depended on nothing more than when the ball goes into that post. And perhaps your life does depend on it. There is self-satisfaction to be gained from that imaginary trophy. This is where you have to ignore that pain in your chest that's begging you for mercy, asking why won't you release me?. Ignore all the signs your lungs are screaming at you letting you know they're at risk of getting punctured. Pffft...lungs or no lungs, you're aiming for the goal. You just want that imaginary trophy darn it. Friendly on hold. Team spirit on hold. Decorum on hold.
After your body has taken quite the beating, your idea of relaxation is to head out to a Lykke Li concert (any good ol' concert will do to be honest). It is at this point that you begin to really hone in on the insides. You become truly convinced that the only way to express how much you're enjoying yourself is to sing every lyric at the top of your lungs. You become one of those nincompoops who sing so loud others around you strain to hear the words coming from the actual artist on stage.
Yes, this is a true sign that you're right on your way to having an amazingly painful weekend. You overlook that itch in the back of your throat. Your mouth moves wildly, but no words come out. You overlook that too. Pretend not to remember that this is a sign your voice will be out for a few days. Overlook, overlook, overlook. Who cares about a voice at a time like this?! You're rocking out to one of your faves and are on your way to accomplishing your mission: amazingly painful weekend.
At the end of it all, drop your camera from about six feet and have a freeze frame/slow motion moment when your realize all the photos captured are forever lost in a digital abyss. All you've got left really is your fizzling memory. Now this pain shoots straight through your heart.You live in limbo for the next couple of days with little to no voice, aching muscles and a cramp in your neck caused by your awkward sleep position of head hanging off bed.